At Optic Cyber Solutions, we assist organizations in building and expanding cybersecurity programs to protect what matters most. From developing an effective compliance program to implementing an Incident Response Plan, our cybersecurity engineers have the expertise to strategically build security into your program without getting in the way of your business.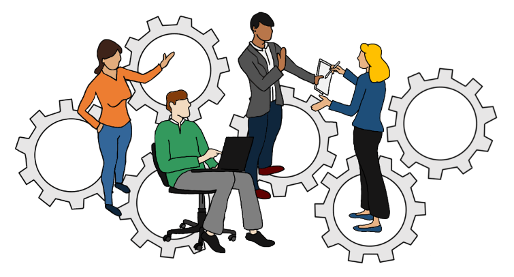 | Security Program Development
From decades of working in network and system administration, IT security evaluation, and process improvement, Optic's cybersecurity engineers have the experience to implement effective cybersecurity solutions for your organization.
Our team of cybersecurity engineers has experience in the development of technical documentation packages, including System Security Plans (SSPs), and has helped organizations to build and implement cybersecurity capabilities such as Asset Management Strategies, Incident Response Plans, Test, Training, and Exercise Plans, Contingency Plans, Access Control Strategies, Data Classification Standards, and many others!
Reach out at Info@OpticCyber.com for more information on a specific capability you're trying to build out!
| Compliance Package Development
At Optic, we believe that compliance and regulatory requirements should be built into existing processes rather than being managed separately. Our team has assisted organizations across sectors in implementing solutions to protect critical business systems and processes while also meeting their compliance requirements.
Optic's cybersecurity engineers have extensive experience in implementing the Risk Management Framework (RMF) to meet both Federal Information Security Management Act (FISMA) and Federal Risk and Authorization Management Program (FedRAMP) requirements. We support organizations through all phases of the RMF by defining system boundaries, implementing security controls from NIST SP 800-53, developing SSPs, conducting Security Control Assessments (SCA), as well as creating continuous monitoring programs to ensure systems maintain a security posture consistent with the defined security control baseline (i.e., Low, Moderate, High).
Optic has also supported many organizations in the US Defense Industrial Base (DIB) as they prepare for the Cybersecurity Maturity Model Certification (CMMC). Optic is proud to be an authorized CMMC Registered Practitioner Organization (RPO) partnering with companies to help them get ready for certification. Whether you need help developing a System Security Plan (SSP), Plan of Action & Milestones (POA&M), or an entire Cybersecurity Documentation Package (e.g., policies, plans), Optic is here to help.
Email our team at Info@OpticCyber.com to let Optic guide you through the compliance process!